An American hero of our time died last week, and I don't use the term hero lightly. His story, his acts of heroism, his resilience against all odds, and his unbelievable bravery seem like a story you read in a book or see in a movie.  But they were not fiction. They were his reality, his story and his demonstration of internal strength, decency and a deep commitment to others. John McCain was the personification of resilience and character.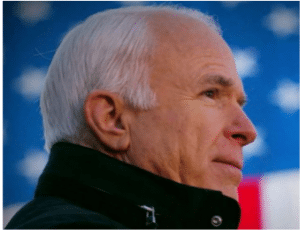 Like John F. Kennedy before him, John McCain, showed acts of courage and commitment to the men who served with him.  Even when severely injured, both put others first. John F Kennedy had the good fortune to be rescued. John McCain was tested and tortured for five and a half years of brutal treatment in captivity at the Vietnamese prisoner of war camp dubbed by the inmates the "Hanoi Hilton".
As reported in the New York Times "On October 26th 1967 when he was serving as a Navy aviator in the Vietnam war, he took off on his 23rd mission. Over Hanoi, a surface to air missile sheared off his right wing.  He ejected as the plane plunged, but hit the canopy as he exited.  Both arms were broken and his right knee was shattered.  He fell into a lake and with 50 pounds of gear sank 15 feet to the bottom then pulled the inflating pins of his "Mae West" life jacket with his teeth and rose to the surface gasping for air.  Swimmers dragged him ashore, where he was set upon by a mob.  McCain was kicked, spat upon, then bayoneted in the left ankle and groin. A North Vietnamese soldier struck him with his rifle butt breaking a shoulder. He was then carried to a truck and driven to the Hanoi Hilton.  There he was denied medical care.  His knee swelled to the size and color of a football.  He lapsed in and out of consciousness for days.  When he awoke in a cell infected with roached and rats, he was interrogated and beaten. The beatings continued for days.
In March 1968 McCain was put in solitary confinement, fed only watery pumpkin soup and scraps of bread. He was beaten frequently and tortured with ropes and it lasted for two years. (I repeat it lasted 2 years! Can you even imagine that? Alone for 2 years, beaten and tortured….who could withstand that level of abuse?)
Even more extraordinary was when his captors realized he was the son of the Admiral commanding the entire US Pacific Fleet and offered him early release he refused, insisting he be released in the order that he had arrived at the prison camp.  The extreme abuse he received after that broke John McCain and he "confessed" to war crimes and air piracy.  He later said, "I had learned what we all learned over there:  that every man has his breaking point.  I had reached mine". He received the Silver and Bronze Stars, the Distinguished Flying Cross and other decorations. His ordeal finally ended on March 14, 1973.
Can you even imagine the strength of character, self-discipline, resilience, courage and compassion this man possessed?  Look at what he went through and what he endured. John McCain was in that prison for five years, not five months but five years! I shudder to think how most of us would have withstood such torture, isolation and separation from everything and everyone we loved.  The character he showed shines through.  The resilience he demonstrated was remarkable, somehow, someway he found an inner strength that enabled him to carry on living day after day, month after month and year after year. This was a man who showed an incredible level of emotional, intellectual and spiritual maturity. This maturity and goodness made him one of the great men of our time.
There are people all around us if we look closely, who are in their own prisons, going through their own years of despair.  They are the poor among us, especially children, the sick and forgotten people, the orphaned, the elderly who are alone and lonely. They may not be prisoners of war, but they are prisoners nonetheless. What is our obligation to them? I wonder what John McCain would tell us……
As the title of his favorite book, Ernest Hemingway's For Whom the Bell Tolls, reminds us
Any man's death diminishes me, because I am involved in mankind, and therefore never send to know for whom the bell tolls; it tolls for thee. (John Donne)
And now the bell tolls for an American hero, John McCain.